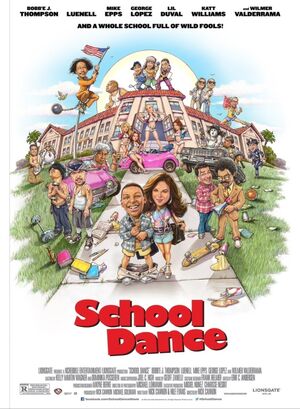 School Dance
is a American comedy-drama musical film directed, written, and produced by
Nick Cannon
. The film was filmed back in Los Angeles in 2013, but was released on July 2, 2014 in select theaters, on VOD and digital download. The film is produced by Cannon's production company,
N'Credible Entertainment
and is distributed by Lionsgate Entertainment. 
A high school freshman, Jason Jackson finds his high school crush, Anastacia, but the problem is she doesn't know he exists. So he decides he wants to be part of the most popular dance clique in his school, "The Rangers", but has to overcome his battle-ax of a mother, survive Anastacia's gangster brother, and pass the crew's intuition of getting a pair of panties from a Sweet Girl by midnight.
Bobb'e J. Thompson as Jason Jackson
Julian Goins as Julian
Langston Higgins as Langston
Dashawn Blanks as Day Day
Kristinia DeBarge as Anastacia
Luenell as Mamma Tawanna
Wilma Valderrama as Flaco
Efren Ramirez as El Matador
George Lopez as Oscar
Mike Epps as Principal Rogers
Katt Williams as Darren
Affion Crockett as Coach Fontaine
Patrick Warburton as Prairie Puff Man
Melissa Molinaro as Tequila
New Boyz
Amber Rose as MarryWanna
Kevin Hart as OG Pretty Lil' Thug (uncredited)
Lil' Duval as Bam-Bam
Kayla Collins as Big Booty Becky
Pete Davidson as Stinkfinger
Vivian Kindle as Mrs. Johnson
Nick Cannon as Himself/Super Sizer/Juicy